Sea moss, also called the Irish moss, is a form of sea algae commonly used by men and women to improve their general health and avoid diseases, especially those linked to their hormonal and reproductive health.
Sea moss is highly revered for its natural aphrodisiac properties. The use of organic (Irish) Sea Moss is commonly recommended as one of the natural ways to improve the libido in men and women.
The health benefits can be enhanced further by using organic Sea Moss supplements that are enriched with other natural remedies like Bladderwrack and Burdock.
Keep reading or learn more about the health benefits of Sea Moss and how you can improve your general health and reproductive functions by using supplements containing organic sea moss, Bladderwrack, and Burdock.
What is Sea Moss?
Sea moss typically refers to the specific form of a spiny, edible seaweed or algae called Chondrus crispus. Sometimes referred to as the Irish moss, sea moss grows naturally in water bodies like the Caribbean Sea and the coast of the northern Atlantic ocean, between Europe and North America.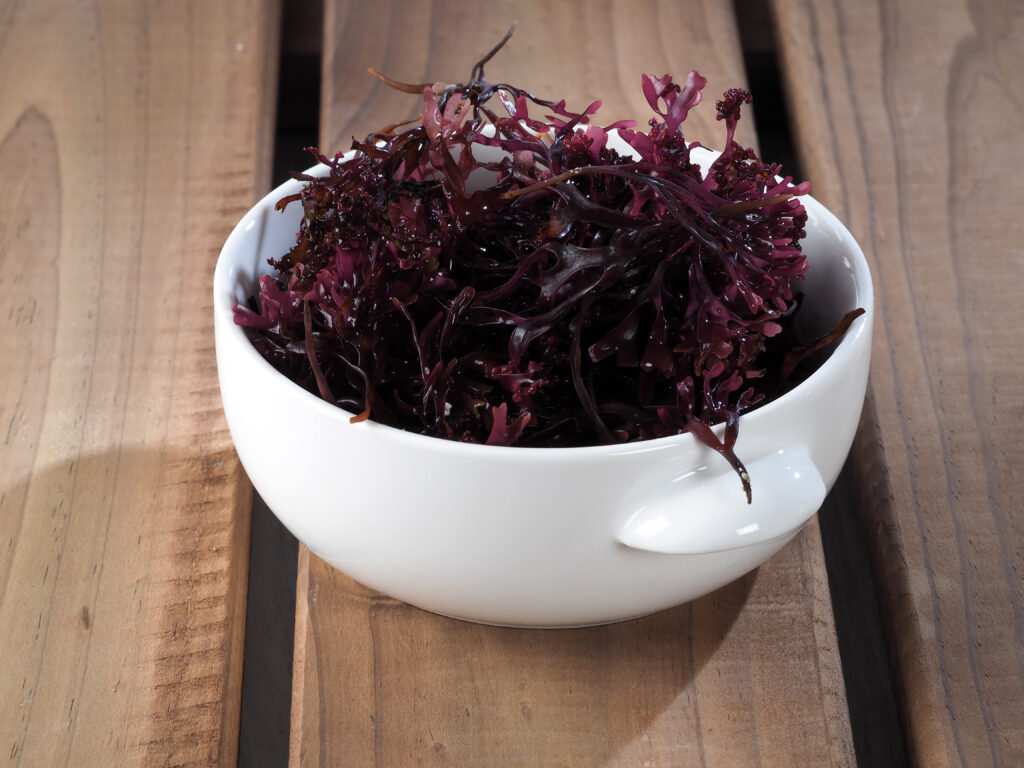 Health benefits of Sea Moss
Source of nutrition
What makes Sea Moss a perfect supplement to add to your health routine is the rich source of nutrients it provides. Studies have revealed that this alga contains a high amount of proteins, and minerals like iron, calcium, potassium, zinc, magnesium, and phosphorous.
These nutrients can play a key role in supporting the body's vital functions and protect you against diseases such as anaemia, repeated infections caused due to a weak immunity, kidney disorder, and much more.
Antioxidant properties
Red seaweed possesses powerful antioxidant properties that would protect healthy tissues and organs against oxidative damage. This action of Sea Moss could be beneficial for reducing the risk of cancer, neurodegenerative disorders, autoimmune disorders, and even cancer
Supports hormonal health
The rich iodine content of Sea Moss makes it a perfect supplement for avoiding thyroid diseases that typically occur due to the deficiency of iodine. Regular use of a supplement containing organic Sea Moss would improve thyroid functions and regulate the balance of thyroid hormones secreted by this gland.
This, in turn, would enable a controlled production of other hormones including the male and female sex hormones, like oestrogens and progesterone in women and testosterone in men.
Supports weight loss
Research studies have suggested that the regular use of organic Sea Moss might help to support faster weight loss.
A natural compound in Sea Moss called fucoxanthin would promote the breakdown of fats and increase the burning of fats thus allowing you to lose excess fats in a short period. This effect of Sea Moss could be highly effective for the management of health issues that arise due to obesity, such as diabetes, infertility, hypertension, cancer, and loss of libido.
Aphrodisiac action
Clinical research has suggested that Sea Moss from Caribbean islands can act as an aphrodisiac in men as well as women. It might help to increase libido and improve their sexual performance. This alga can also regulate the reproductive functions by maintaining a balance of hormones in the body.
Supports gut health
Sea Moss could produce prebiotic effects and play a role in improving the gut microbiome.
Research studies have revealed that Sea Moss is rich in dietary fibers and oligosaccharides like carrageenan. These compounds would support gut health by promoting the growth of healthy bacteria in the intestine. This would enrich your gut flora and thus, improve your digestion and immunity.
Health benefits of Bladderwrack and Burdock
Bladderwrack and Burdock can enhance the health benefits of Sea Moss further by complementing the therapeutic and preventive potential it possesses.
Bladderwrack and Burdock have been shown to possess a wide range of medicinal properties as discussed below:
Improve immune health and reduce the risk of allergies, repeated infections, and autoimmune disorders
Support weight loss by increasing the metabolic rate
Fight against cancer by acting as antioxidants and anti-inflammatory agents
Produce neuroprotective effects and protect against neurodegenerative diseases like Alzheimer's and Parkinson's
Conclusion
Organic Sea Moss offers a great therapeutic potential that is enhanced further when it is combined with Bladderwrack and Burdock. Regular use of supplements containing organic Sea Moss, Bladderwrack, and Burdock would improve your overall health, enhance your sexual desire, regulate reproductive functions, and reduce your risk of diseases like infertility, diabetes, and so on.